Washington Wins Intermat XIII
25.5 – 22.5
<![if !supportEmptyParas]> <![endif]>
For the second straight year, Team Washington was victorious in the annual International Scholastic Match (Intermat) between Washington and BC.  Once again, it was Team Washington's strong play at the younger grades that gave them the victory.  Total scores in Grades 1-5 were Washington 14.5, BC 5.5  But in grades 6-12, BC dominated Washington 17 to 11.  Since the younger kids finish first, the day was characterized by Washington building a big lead, then hanging on.
<![if !supportEmptyParas]> <![endif]>
In the final round, Washington arrived at a score of 23.5 with six games still going.  All Washington needed was one half point to tie and a full point to guarantee victory.  Then all at once, two games finished with Washington winning both and Washington's victory was assured.  At this point, Washington's team coordinator (yours truly) relaxed and looked around at the remaining 4 games to find Washington was losing on all 4 boards!  Indeed we did lose those games as BC finished strong.
<![if !supportEmptyParas]> <![endif]>
Some notable performances on Team Washington include the continued dominance of Nicholas Orlov who went 3-0 in the Candidates and easily won both his games against the Canadians.  His games are usually the first to finish and he never stops smiling throughout the match.  But his first-grade playing partner, James Colasurdo, was also impressive going 2-0 against the Canadian team.  It's great fun to watch our two first-graders play – such a contrast in demeanor.  Nicholas is forever smiling, glancing around the room, kicking his legs and playing with not a care in the world, while James is all business – focused like a laser beam only more intense. 
<![if !supportEmptyParas]> <![endif]>
Alec Ho continued his outstanding play by scoring a perfect 2-0 in the second grade.  Our fourth-grade team of Darren Wu and Igor Ummel duplicated the feat of the first graders in scoring 4-0 against the Canadians.  The ever cheerful Darren never had me worried, but I can't read Igor very well.  I should not have worried, since both came through in the clutch.
<![if !supportEmptyParas]> <![endif]>
As I told him after the match, Richy Selzler has quietly become one of the strongest players in the state.  Not everybody has heard of this kid – but you will.  The 8th grade team was one of our true bright spots.  Alex Glass and Ricky outplayed the Canadian team in all 4 games and gave us another 4-0 score. 
<![if !supportEmptyParas]> <![endif]>
And I don't mean to leave out all the great performances by our kids who didn't score a perfect 2-0.  Kevin Binz only got one-half a point, but his opponents were both rated over 2100!  His draw against Lucas Davies (2133) was a thing of beauty.  Team Captain Alan Kwan had a nice win, and last-minute addition to the team, Case Kiyonaga, got a win and a draw against players both rated higher than him.  Prithvi Shankar also had an outstanding match, getting 1.5 points against higher-rated opponents. 
<![if !supportEmptyParas]> <![endif]>
The Canadians were impressive, even in defeat.  There were never any negative words from the team, and some wonderful performances.  Noam Davies, son of co-BC organizer Katherine Davies, scored a perfect 2-0 including an impressive win over Michael Cambareri in the final round.  I was personally impressed with the play of Valentina Goutor, who scored 2-0 against the Wyde twins in the 9th grade group.  The BC sixth-grade team of Bryan Young and Kristijan Gorgevik, despite both being lower rated than our two sixth graders, managed to take all 4 points for the grade.  Alexandra Boetz, despite being the lowest-rated player in her 3rd grade section, managed to come away with the highest score of 1.5.  And the top-rated player in the tournament, Fanhao Meng (2276) won both his games.
<![if !supportEmptyParas]> <![endif]>
As always, the Canadians were fantastic hosts, handing out sweatshirts to all the Washington participants and being ever gracious despite our victory.  They lack a little in the "giving directions" department (a number of people got lost, including yours truly), but we will do better with the directions next time.  Thanks to all who participated, and a special thanks to America's Foundation for Chess, who again sponsored Team Washington, providing the money to keep this wonderful event happening.
<![if !supportEmptyParas]> <![endif]>
I was honored to be the coordinator for Team Washington.  It is truly a pleasure to work with the parents and kids of Team Washington.
<![if !supportEmptyParas]> <![endif]>
Kirk Winges
<![if !supportEmptyParas]> <![endif]>
<![if !vml]>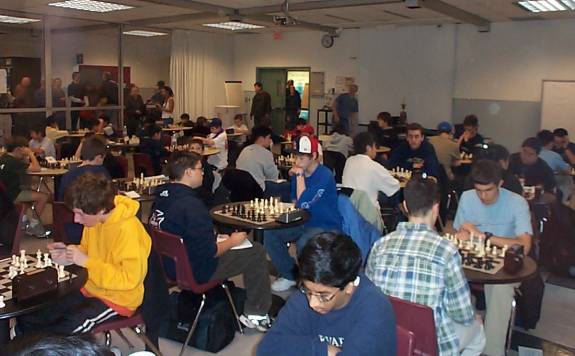 <![endif]>
<![if !supportEmptyParas]> <![endif]>